Dec/Jan '12
Posted by
Justin Perkins
on
February 28th, 2012
2/28/12
|
Comments Off

on Dec/Jan '12
Wow, busy times…where to start.
Well, the documentary Undefeated won an Oscar for best documentary.  Most of the music for this film was recorded at Mystery Room last year and written by Dan McMahon and Miles Nielsen.
I did a bunch of mastering projects to start of 2012 including projects for The Hussy, Allen Cote, The Turdles, Archie Powell & The Exports, PUTA MADRE BROTHERS, The Piniellas, Borderlines, Derek Dunn, .357 String Band, A Familiar Voice, Fresh Cut Collective, Wasted Islands.  I remastered an album that I mixed a few years ago by a band called The Accelerators from the Netherlands, it should be reissued on vinyl and CD again soon.
I also finished mixing the Dan Vapid & The Cheats album that I started recording last fall.  It's all mastered up and ready for release when the time is right.  Speaking of Dan Vapid, I also mastered a split 7″ coming out on Merman Records of the Jetty Boys and Dan Vapid & The Cheats.  I even got to go over to Lucky Lacquers and watch Dave cut it to vinyl.  Check out this photo: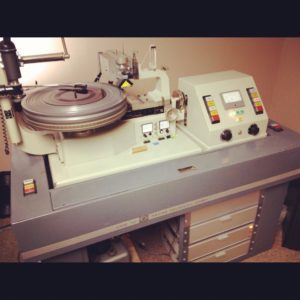 I mixed and mastered an album for Ikarus Down which is the band of former Mystery Room engineer Jon Ferrer.  Also in the mixing department, I mixed some songs for what I think will be the next Hue Blanc's Joyless Ones album.