Specialized Mastering Services
Audio Mastering For All Digital Formats & Vinyl Pre-Mastering
With over two decades of experience, Mystery Room Mastering is a mastering studio in Madison (formerly Milwaukee), Wisconsin run by Justin Perkins, offering mastering for all genres and styles of music using a high quality monitoring and signal processing chain, including carefully selected analog equipment, and the finest digital plug-ins. Aside from the digital world, Mystery Room Mastering specializes in creating digital pre-masters for vinyl cutting, and cassette production. We can also guide you through the rest of the vinyl manufacturing process including finding the right lacquer cutting engineer or pressing plant for your project. More on that HERE.
All EP and album projects are delivered to you accompanied with a licensed version of HOFA DDP Player to make sure you're hearing your master in its truest form before approving it. Projects are also delivered for approval using a very simple web-based audio player so you or anybody involved with the project can easily audition the master on-the-go from any device, and accurately hear the song transitions while listening in full resolution for the best playback experience. The approval process has never been easier, no matter where in the world you're located.
Upon approval, high-resolution digital masters are included with each mastering project to ensure that your master files are within spec for the Apple Digital Masters program, and can also be used for other digital distributors/streaming platforms that utilize high-resolution master files from your digital distributor, as well as Bandcamp.
CLICK HERE to get started. No payment is required until you are 100% satisfied with the work.
Apple Digital Masters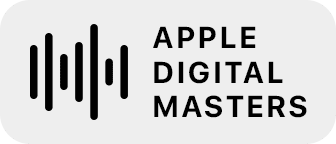 Mystery Room Mastering is certified by Apple to provide master files for the Apple Digital Masters program. Apple Digital Masters (Formerly Mastered For iTunes) involves creating and uploading high resolution (24-bit/native sample rate) master audio files to your digital distributor for encoding to AAC format, which is used by Apple in the iTunes Store and for Apple Music.
Using higher resolution source files and following the other Apple Digital Masters guidelines can result in a better sounding experience for the end user. It also allows listeners to stream your music on Apple Music at the native resolution, and better than CD quality audio. This is also possible on TIDAL, Amazon Music, and Qobuz if your digital distributor accepts master WAV files at 24-bit and 44.1k or higher sample rates such as 48k or 96k sample rate.
Apple Digital Masters files are auditioned through the same encoder in which they will be eventually processed by Apple so proper testing and adjustments can be made to avoid problems, and optimize audio masters for distribution via the iTunes Store and Apple Music.
Check with your digital music distributor to learn more about their rates and policies for Apple Digital Masters releases.
DDP Assembly & Authoring
Deliver your music to a CD manufacturer with all CD-Text, ISRC codes, UPC/EAN code, and audio quality and integrity exactly as intended, and without errors. If you already have sonically mastered WAV or AIFF files and need them properly assembled into a Red Book master for CD production and/or online distribution, we can assemble a DDP master for you to be sure that the finished product will not contain any errors or anomalies.
Easily test the DDP master yourself with the complimentary HOFA DDP Player that will accompany your DDP master. DDP is the same file format that nearly all CD replicators use to replicate CDs, so you can listen to the exact same file from which your CDs will be created. Even if you are not replicating CDs, DDP is a great method for keeping your master sequenced properly, especially when there are songs that crossfade, or for continuous live recordings that need to be played without a gap between tracks.
Audio Sweetening For Short Video Productions
Mystery Room Mastering also specializes in noise reduction (background noise & equipment hiss), general audio clean-up, dialogue editing, mixing, sweetening, and mastering for short video productions. Post-production effects and library music consultation are also available.
We have found that while video editors are great at the video aspect of a project, they are often guessing or in the dark when it comes to fixing, mixing, and delivering great sounding audio within the specifications of various video mediums. To put it another way, we would never attempt to edit a video for professional distribution. Audio and video are two separate things really.
The current turnaround time for a typical full-length album is roughly 7 to 13 days. Single songs and shorter projects can often be completed in under a week. With some advance notice, good communication, and preparation, album and EP projects can sometimes be completed within a few days. We also offer a guaranteed 72 hour "Rush Service" option on the project submission form when the schedule allows.
Helpful Resources
Submission Guidelines
Specific information on how to prepare and submit your audio for mastering. Share this with your mixing engineer.
Master Audio File Variables
Unsure which file formats you'll need from your mastering session for your project? This detailed document will help.
File Upload
Need to send files for new projects or submit a revision? You can also send files for initial evaluation and consultation prior to mastering.
Frequently Asked Questions
The most-asked questions from clients before getting started. Please take a look.
Articles
Here are some articles I've authored on various aspects of audio mastering.
Vinyl Runtime Guidelines
Detailed runtime suggestions to make sure your vinyl release sounds great.
DDP Player for Desktop
Easily and accurately review your mastered audio from your computer.
DDP Player for iOS
Easily and accurately review your mastered audio on the go from your iOS device.
Payment Methods
All major credit cards, Venmo, PayPal, Zelle, check, or money order.